Here is a list of the 4 best private lakes in West Bloomfield MI. Two of the lakes lies in two communities. The western part of Middle Straits Lake lies in Commerce Township. The bigger portion lies in West Bloomfield Township. Upper Straits Lake lies in both Orchard Lake and in West Bloomfield.
If you have been searching the listings on West Bloomfield Lake homes you may wonder why West Bloomfield lake homes command the higher prices that they sell at?  It boils down not only to the quality and the size of the lakes but also because of the city itself and where it is located. If you are not familar with West Bloomfield in Oakland County you may not know that the community itself is what I would call a prestigious city in Metro Detroit.  Birmingham, Bloomfield Hills, Franklin, Beverly Hills, and Bloomfield Township do not have any big all sports lakes in those communities. What I mean by that is that many home buyers want to live in West Bloomfield MI because of the cities characteristics and benefits that the township offers.  Some of the features of the township are:
Excellent top ranked school system
Centrally located in Oakland County with easy highway access
Low crime
Good city services
Wide variety of mid level homes to luxury estates
In real estate one of the keys is to our business is where is the property located at. We say location, location, location. West Bloomfield has many main artery roads that run north and south and make it easy to get to expressways. Orchard Lake Road, Telegraph Road, and the M-5 connector are very close to some of these lakes. It makes the lake residents ride to work easier.
Middle Straits Lake      Private           171 acres          55 ft. depth          all sports lake
If you are looking for a nice all sports lake in West Bloomfield then you should check out Middle Straits Lake in W Bloomfield. It is a public lake because you can get onto the lake with a boat at West Bloomfield's Bloomer Park boat launch. The good part for lake home owners on the lake is that there is not a lot of parking for cars and trailers. It's not an easy process to put a boat on the lake sometimes. So Middle Straits Lake is a public 171 acre all sports lake that has a depth of 53 feet. I believe it is a glacial formed lake from the depth of it. It is part of the Huron River watershed. Water from Upper Straits Lake flows into Middle Straits Lake and then into Lower Straits Lake.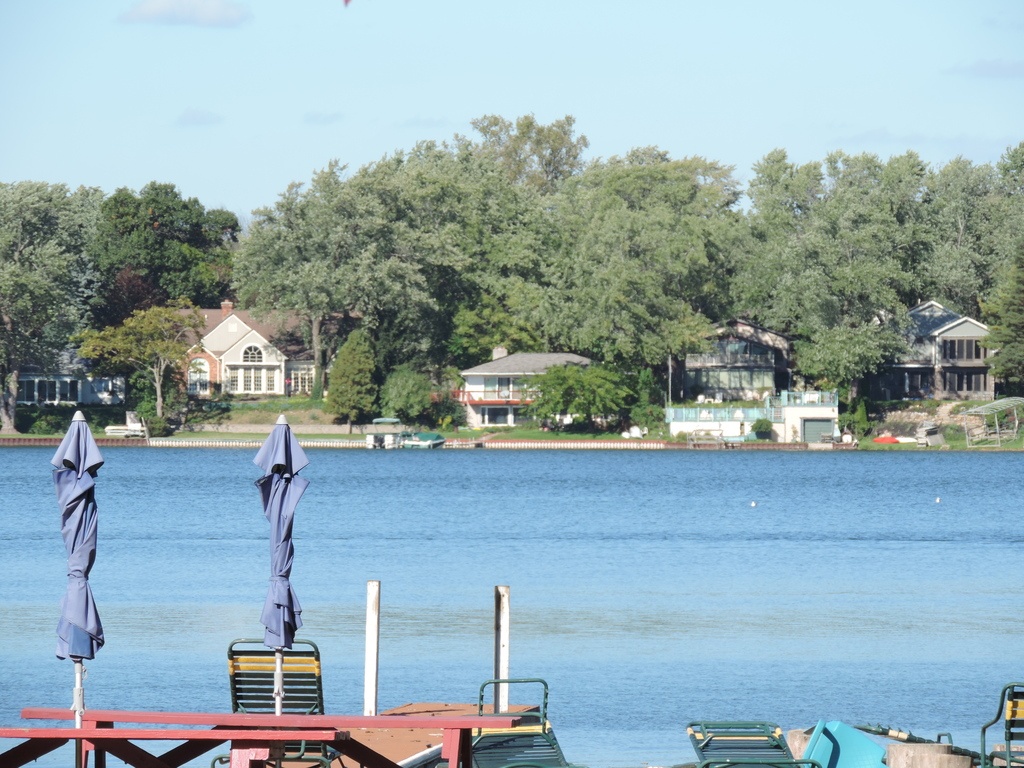 Lake homes on Middle Straits Lakes are desirable because they are closer to I-96 & M-5 than many other lakes. The further you go north the harder the commute. That is because many of the roads in the lakes area are 2 lane roads. So they become quite congested at rush hour in the morning and at night. So anybody that works in Downtown Detroit or any distance from West Bloomfield or Commerce wants a lake home that is easy to get to. Middle Straits Lake houses fit that bill. A little shorter commute for a lake home buyer.
Pine Lake                     Private           395 acres         90 ft. depth          all sports lake 
All sports lake Pine Lake is 395 acres in size and is about 90 feet deep in the deepest spot. It was a glacial formed lake. With 11 miles of shoreline, Pine Lake is considered a mid-sized Michigan lake. Like so many of Oakland County Lake is was a big treat and fun to take a "vacation" out to an Oakland County Lake. Pine Lake was no different than many of the others in the area. It could take hours to get from Detroit because of the dirt roads. A heavy rain sometimes made a muddy mess and made travelers trip even harder. In 1905 when the north boundary of Detroit was not too many blocks beyond Vernor Highway, driving a car to the wilds of Pine Lake in West Bloomfield was a major adventure. The beautiful bluff overlooking the lake became a favorite overnight camp site for practically every Detroiter who owned a car.
Pine Lake is located East of Orchard Lake Rd and North of Long Lake Rd. There is a marina on the lake that has ski lesson and wakeboard lessons. It is a great place to start learning if you have never done it before. On two sections of the lake the lake houses are not directly on the lake. Many lake homes on Orchard Lake Road and Pine Lake Road sit across the road. So you have to cross busy Orchard Lake Road to get to the water. Pine Lake Road is much slower and easier to cross. On both streets there is usually a small strip of land by the water for the home owners to use.
Upper Straits Lake       Private            323 acres           96 ft. depth         all sports lake
It is still a lake where there is no uniformity to homes. You may have a 1500 square foot brick ranch home next to a 3000 square foot colonial. There will be all types and styles of homes next to you. It's not going to be like a subdivision in Northville or Rochester. Oakland County Lakes are not like subdivisions. They are a mixed bag of homes. Each home has it's own character.
Upper Straits Lake in Oakland County is a private all sports lake. It is about 323 acres in size. It is a glacial formed lake with the deepest spot of 98 feet. Some of the lake lies in West Bloomfield, and some in Orchard Lake Village. Most of the roads around the lake are paved though some are gravel. The children on the school go to either Walled Lake schools, or West Bloomfield schools. A large portion of Upper Straits Lake lies in Orchard Lake Village. So the lake lies in both communities.
The lake is about 1.7 miles in length, and the perimeter is 6.24 miles. It is the headwaters for the Huron River System. It is spring fed and fed from run off. Private associations control 4 boat ramps. There is one slalom ski course. There is no central lake associations. There are several large subdivisions with associations that cover their little area of the lake. It is one of the big all sports lakes in West Bloomfield. It is also one of the large private lakes in West Bloomfield. That is why so many people love Upper Straits Lake.
Walnut Lake Private 232 acres 101 ft. depth all sports lake
For a waterfront home on one of Michigan's most exclusive lakes, there is Walnut Lake in West Bloomfield, Michigan. There are some very large waterfront properties on the lake with a high value, and there are also some that are a bit smaller, but all the waterfront homes are considered high-end. Walnut Lake is a private, all-sports lake with safety regulations. It is 232 acres and has a maximum depth of 101 feet. There is no public access to Walnut Lake, but there are several association beaches. Walnut Lake is the perfect place for high-end waterfront living, in West Bloomfield, Michigan.
Depending on where you live on the lake the school district is either going to be Birmingham school district or Bloomfield Hills school district. You are not going to find homes in the under $200,000 range on Walnut Lake in West Bloomfield. You will find even the small homes are going to be sold for 300 – $600,000 just for the lot on the lake. There are lake laws on when you can operate a boat at high speed. The lake hours are 10 to 6:30 at night. After those house it is a no wake period.
Here is a glimpse of waterfront homes on Walnut Lake in West Bloomfield Township Michigan
Lake frontage 40′ to over 250′
Lot size varies
Home square footage 1000 to over 10,000 square foot
Average size of homes Most of the homes are over 3000 square feet
age of homes 1920's – now
If you would like to know more about other private lakes in Oakland County and need a good realtor give me a call or text. I work hard for my clients getting them the best lake home possible. Russ Ravary 248-310-6239